Subject Code & Title :- BSL2305 Company Law
Assignment Type :- Assignment
Weighting: This assignment is graded out of 100 and is weighted at 30% of you overall grade.
Word count: It must be a minimum of 1600 and must not exceed 2000 words (not including footnotes which are citations).
Submission: You should submit your assignment on the LMS.
BSL2305 Company Law Assignment – Australia.
The mark for your assignment will be determined by reference to the quality of its analysis its clarity and organisation and its presentation including its freedom from distracting stylistic errors (grammatical spelling punctuation and typographical. Where appropriate reference should be made to legislation cases texts and other commentary. The Chicago or APA style of referencing is preferred. Full case and/or legislation citation is expected. See the Library guide on Chicago referencing of legal materials Chicago legal.
Late assignments will have 4 marks deducted per day or part thereof. Extensions for the assignment will be granted only in exceptional circumstances. If something exceptional arises that you believe requires an extension you should contact me by e-mail before the due date attaching appropriate supporting documentation (eg a medical certificate).Reasons which are insufficient to warrant an extension include computer failures car failures or other transportation difficulties work conflicts family celebrations and other study commitments.
Please see the UILG for further information on assignment format and submission.
Question 1 :-
Discuss the reasoning of the Court and significance of the findings of Salomon v Salomon & Co Ltd with regard to separate legal entity and piercing of the corporate veil. You can find the case on the LMS.
BSL2305 Company Law Assignment – Australia
Question 2 :-
Jayce has come up with a wonderful idea for a new business. He has scoped out the local offerings and believes there is a strong need for an ice-cream bar in his neighbor hood. Jayce lives in a very cold part of Australia where it frequently snows. While there is definitely no other ice-cream bar in the area Jayce is a bit worried about how the business will do in the winter months which are the prime months for tourists.The recipe for the ice-cream is his daughter Genevieve's.She will sharing the recipe with the other members of the family who will be working at the bar but she is very secretive of her recipe. Jayce wants to start the business because he wants to be able to pay for his two children Genevieve and Grady to study over seas. Jayce would like his children to learn how to save their money by having some of the income from the business go directly into their accounts but at the same time he is worried that until they learn how to use the money responsibly they may spend it all. He also thinks there may be a way of saving some money on tax depending on how the money is split between the family but he's not really sure how that works. Jayces wife is Tilly. Jayce and Tilly have been having some problems in their marriage lately and have separated and gotten back together at least three times in the last year. Jayce is very keen to have most of the work responsibilities in the business but he knows that Tilly would like some as well. He's not sure if Genevieve is interested in taking some of the responsibility but he knows Grady is not. Jayce doesn't have a lot of money and
would either need to take a loan from the bank or they would need to use Tilly's inheritance money. Jayce is quite private and isn't keen on dis closing how much money his business is making.
Jayce comes to you for advice. He would like to know which business structure would be best for his family's situation. He would like you to compare and contrast between a sole trader a partnership/trust and both a private and a public company and advise which would be best.
BSL2305 Company Law Assignment – Australia
Question 3
Cadence and Harmony are sisters. They are the only two directors of Music With Me Ltd a company that sells personalised musical instruments. The company uses a group of select suppliers for their instruments as they market themselves as only selling top quality hand-made instruments with a soft whimsical sound. When they need a new supplier or when they visit a supplier to make an order it is always Cadence who goes because Harmony, despite her name is tone-deaf and can't distinguish a well-tuned, carefully crafter instrument from the others. Everyone at Music With Me Ltd knows that Harmony is tone-deaf and it was even included in her contract that she is not permitted to order or buy any instruments without Cadence being present. A new supplier, Spring In My Step Pty Ltd has just popped up and Music With Me Ltd is very keen to see what type of instruments they have. They make an appointment with Trevor the manager of Spring In My Step Pty Ltd but on the morning of the appointment Cadence feels unwell and decides to stay home in order not to spread germs around the office. Harmony is not keen to miss the appointment with Spring In My Step Pty Ltd so she decides to go by herself. Trevor knows that Harmony is a director and he is very attentive and shows Harmony all the instruments.Harmony is very impressed by the quality of the instruments in terms finish and look.The instruments are very unique and limited in supply, so Harmony makes the executive decision to order 100 instruments. She signs a contract with Trevor and returns to the office.
The instruments arrive two days later and while they do look very good the sound is something completely different.On closer inspection Cadence and Harmony come to realize that the instruments are purely ornamental, intended to be displayed on walls and shelves but never played. Cadence calls Trevor to tell him that they cannot keep the instruments and that Harmony did not have the authority to purchase them in the first place because she is tone-deaf. Trevor apologies but says that they have a no return policy and he had no idea that Harmony was tone-deaf.
Cadence and Harmony want to know whether the contract is valid or not under both common law and statute law. Please advise.
Question 4 :-
Cadence and Harmony are keen to get some more investment in Music With Me Ltd.They have created a prospectus for potential investors to look at. Both Cadence and Harmony have had a look at the prospectus before it was sent to be laid out by a professional designer. They were both happy with the prospectus and sent it off.
BSL2305 Company Law Assignment – Australia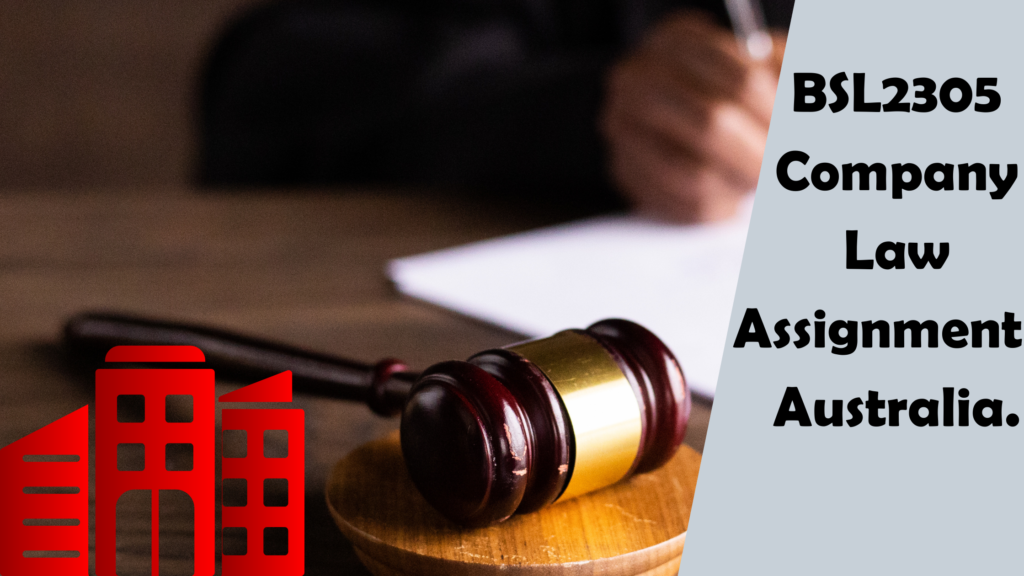 Once printed however there were several issues with the prospectus. The prospectus was missing an entire row of liabilities in the form of loans owed by Music With Me Ltd. This is the fault of the professional printing company they used and was caused by a faulty printer. Cadence and Harmony were sent a sample copy that was printed by a different printer and did not have the defect. The prospectus was also missing a $50,000 payment that had been made to Music With Me Ltd very recently. The payment was from a client who had a long-term payment plan but unexpectedly decided to pay the entire money owing early and outright. Neither Cadence or Harmony are aware of this yet. Finally the prospectus outlines future projections of musical instrument purchases. Cadence and Harmony found statistics on a government website that outlines the plan for all school to have music programs by the end of 2022. Cadence and Harmony include this in the prospectus however the statistic is actually out of date and all schools achieved this goal in late 2021. This means that there will not be a rise in instrument purchases as indicated in the prospectus. Neither Cadence or Harmony were aware that this information was out of date. Another statistic that Cadence and Harmony include is that children as young as five years old can buy their instruments.This is slightly misleading in terms of the instruments that Music With Me Ltd sell which are all adult sized instruments. Music With Me Ltd does not sell instruments for children. Neither Cadence or Harmony play a musical instrument and they are not aware that instruments such as violins, banjos and guitars come in children's sizes.
BSL2305 Company Law Assignment – Australia
These issues are pointed out to Cadence and Harmony. They come to you for advice on their obligations preparing a prospectus any legal issues that may arise with their prospectus and any possible defence they may use.